PIONEER DJ LAUNCHES INTERFACE 2
The 2-channel audio interface for using rekordbox dvs with any DJ set-up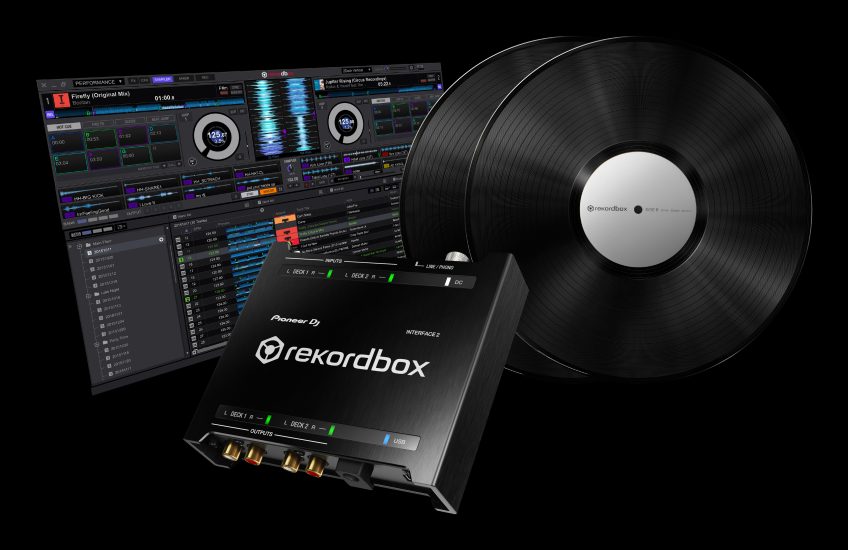 Torrance, CA – (July 6, 2017): Today, Pioneer DJ is proud to announce it is opening up the rekordbox ecosystem to all DJs by releasing the INTERFACE 2. This new 2-channel audio interface lets consumers use rekordbox dvs to scratch and control the digital music on their computers using any DJ set-up.
Wherever DJs chose to perform, using Pioneer DJ products or other hardware, users can connect the INTERFACE 2 quickly to their equipment. It features LED lights to indicate signal flow and warn users about signal problems. It also delivers club-standard sound quality thanks to its high-performance components.
License keys for rekordbox dj and rekordbox dvs, as well as two timecoded vinyl records, worth a combined $258, are bundled with the INTERFACE 2 so users can start scratching digital tracks as soon as it's unboxed.
The INTERFACE 2 will be available from early July with a retail price of $299.
KEY FEATURES OF THE INTERFACE 2
High-quality sound
You can use the INTERFACE 2 at gigs thanks to its crystal-clear sound, inherited from our professional DJ gear. Supporting audio up to 96kHz, it features a high-quality D/A converter and the S/N ratio exceeds 110 dB, so it's well suited for use in clubs.
Compact, robust chassis
Take the INTERFACE 2 out on the road with confidence. The unit is compact, portable and its seamless aluminium casting makes it highly robust, while the extended edges protect the terminals.
LEDs indicate signal flow
Connect the INTERFACE 2 to any DJ set-up quickly and easily, even in a dark club. After plugging into your laptop via USB, LED indicators on the INTERFACE 2's top panel show signal flow, giving you a visual grasp of the setting status. You'll immediately see if there's a signal failure or a problem with a connection, or if the signal level is too low or high, for example when a turntable is incorrectly connected to the line input. The LEDs flash if a signal is in mono only. 
Includes control vinyl plus licenses for rekordbox dj and rekordbox dvs
The INTERFACE 2 comes with bundled license keys for our professional DJ performance application rekordbox dj and the rekordbox dvs Plus Pack, so you can control and scratch digital tracks stored on your computer. Using the engine of rekordbox dj, which uses the same audio signal processing in our professional DJ mixers and multiplayers, you can enjoy high-quality audio and low latency response.
Other features
Mains or USB power – choose your preferred source
Stand-alone audio interface – use the INTERFACE 2 for recording audio to your computer or to send audio to speakers
Large signal GND terminal – firmly holds turntables' ground wires to reduce noise. The knob stays attached even when fully turned, so it can't be dropped
High-quality audio – supports 1 kHz / 48 kHz / 96 kHz signals
DVS options – use time coded vinyl (included) or custom control signal WAV file for use via CDs or USB drive (free download available)
Find out more about the INTERFACE 2.
INTERFACE 2 Specifications
Frequency response

20 Hz to 20 kHz

S/N ratio

112 dB (USB)

103 dB (LINE)

100 dB (PHONO)

Total harmonic distortion

0.002 % (USB)

0.005 % (LINE)

0.007 % (PHONO)

Input/Output terminals

Inputs

RCA x2 (LINE/PHONO)

Outputs

RCA x2 (LINE)

Others

USB-B port x1

Power

AC 100 V, 50 Hz/60 Hz

Power consumption

DC 5 V, 600 mA

Maximum dimensions (WxDxH)

141 mm x 32.5 mm x 127.8 mm

5.5" x 1.2" x 5.0"

Weight

0.6 kg / 21.1 lbs.

Accessories

Power cord, AC adaptor, USB cable, Quick Start Guide,

Warranty, License key card (rekordbox dj, rekordbox dvs)

Audio cable x4, Rubber feet x4

Control Vinyl x2

System requirements
Compatible OS

Windows

Windows: Windows 10, Windows 8.1, Windows 7

(The latest service pack)

Mac

macOS Sierra 10.12 (Updated to the latest version), OS X:

10.11, 10.10, 10.9(Updated to the latest version)

CPU

Intel® processor Core™ i7, i5, i3

Intel® processor Core™ 2 Duo

2.0 GHz or above
 
* Audio performance is based on 96 kHz audio format.
* Disclaimer: specifications and price are subject to change.
* rekordbox is a registered trademark of Pioneer DJ Corporation.
* Mac, macOS and OS X are trademarks of Apple Inc., registered in the U.S. and other countries.
* Windows is a registered trademark or a trademark of Microsoft Corporation in the United States and/or other countries.
* Intel® and Intel Core™ are trademarks of Intel Corporation or its subsidiaries in the U.S. and/or other countries.
* The names of companies, product names, and technology names mentioned herein are the trademarks of their respective owners.
About Pioneer DJ
Pioneer DJ Americas, Inc. is the subsidiary of Pioneer DJ Corporation responsible for sales and marketing in North, Central, and South America. For more than 20 years, Pioneer DJ has been a market leader in the design and production of innovative DJ equipment and software. The company works closely with DJs and clubs to deliver next generation products that inspire and shape the global dance music community and has recently launched a new range of musical instruments for production and live performances. Its portfolio includes brands such as TORAIZ, Pioneer Professional Audio and Pioneer DJ Radio, as well as social platforms KUVO and DJsounds. Pioneer DJ Corporation is a privately held company headquartered in Yokohama, Japan. The company is led by Chairman Yoshiaki Ide, and CEO and President Akio Moriwaki.
Website: www.pioneerdj.com
Stay up to date: www.pioneerdj.com/news
USA Social Media:
Contact:
Vicki Colbert, 310-496-4452, Vicki@allisonpr.com