Rise Up: Introducing the DJM-750MK2
The professional 4-channel mixer to prepare you for the club
Loaded with advanced features and FX, plus high-quality USB sound card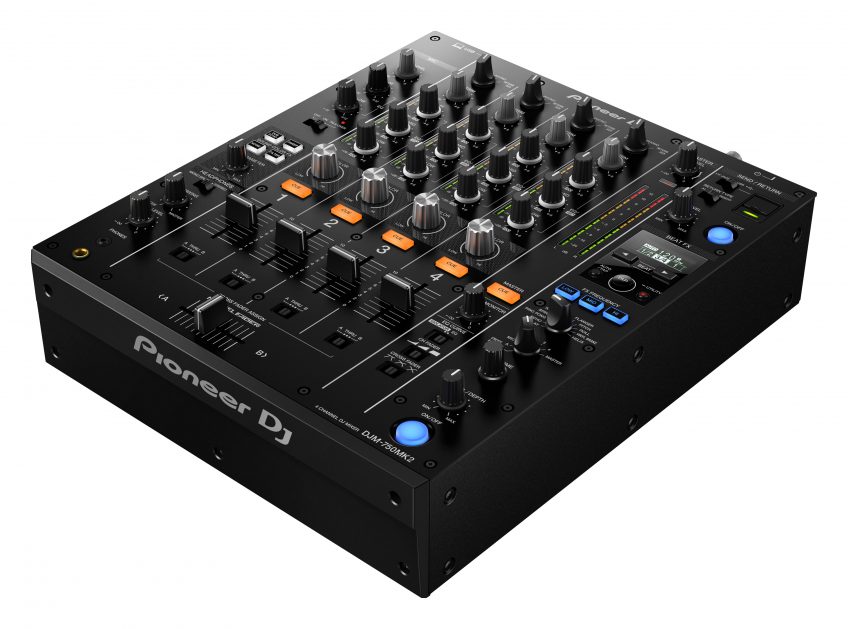 TORRANCE, CA (August 1, 2017) A new 4-channel mixer is joining the Pioneer DJ series: the DJM-750MK2. For practice mixing at home before stepping into the club booth with confidence, the DJM-750MK2 makes the perfect addition to any DJ's set-up. It inherits various features and design elements from the club-standard DJM-900NXS2 and partners perfectly with XDJ-1000MK2 multi players to create a professional-style set-up that you can hone your skills on.                                                                                              
You can perform seamless mixes on the DJM-750MK2 thanks to the smooth curves on the equalizers (EQs) and channel faders. The Magvel crossfader, inherited from the DJM-900NXS2, gives a precise response and assured feel during even the most complicated scratch techniques. As well as its build quality and feel, other popular elements that come from Pioneer DJ's flagship club mixer include four Sound Color FX with parameter control and selected Beat FX with FX Frequency, all allowing you to add creative flair to your performances. Warm, high-quality audio comes through thanks to the DJM-750MK2's 64-bit digital signal processor which uses dithering technology, plus its 32-bit A/D converter and 32-bit D/A converter.
For the flexibility to connect different types of FX units and create the sounds you want, you can choose from AUX or Insert send/return. You can also use software that supports Inter-App Audio on iOS devices and use apps such as effectors, synthesizers and samplers, and combine them with the DJM-750MK2's internal FX. Simple connection via a USB cable ensures high-quality sound.
Licences for rekordbox dj and rekordbox dvs are worth a combined $228 and are bundled with the DJM-750MK2, so you can control digital tracks stored on your computer via multi players, or via turntables when you use the dedicated control vinyl (available separately). The built-in sound card means you can connect the mixer to your PC/Mac with a single USB cable.
The DJM-750MK2 will be available from early September at an MAP of $1,199.
KEY FEATURES OF THE DJM-750MK2
Professional layout
Mixing on the DJM-750MK2 feels instinctive thanks to the layout design, which inherits traits from the DJM-900NXS2 professional mixer. You can practice at home, then feel comfortable and ready to perform when you arrive at the club.
Smooth EQs, channel faders and Magvel crossfader
The EQs and channel faders on the DJM-750MK2 feature curves equivalent to those on the DJM-900NXS2, allowing you to perform precise, seamless mixes. You can eliminate each of the high, mid and low EQ bands when you turn their knobs all the way to the left thanks to the isolator feature, and the channel fader curves give accuracy over long mixes. The Magvel crossfader– also inherited from the DJM-900NXS2 – is smooth, accurate and durable for more than 10 million movements and its cut lag has been improved for more assured and responsive performance compared to that of the mixer's predecessor. If you own a DJM-TOUR1, DJM-900NXS2, DJM-450 or DJM-250MK2, you can update your mixer's firmware to shorten the crossfader cut lag. The update will be available from our support page soon, along with firmware updates. 
Professional FX with detailed control
Add texture and flair to your mixes with professional FX inherited from the DJM-900NXS2.
Sound Color FX: Simply turn the knob to apply Dub Echo, Sweep, Noise and Filter. Parameter control lets you get even more creative.
Beat FX: Add Delay, Echo, Ping Pong, Spiral, Reverb, Trans, Flanger, Pitch, Roll, Vinyl Brake and Helix in sync with the BPM.
FX Frequency: Choose which EQ bands you want to apply FX to; low/mid/high.
Independent send/return: Insert send/return replaces the original sound with the effected sound from the external hardware. Aux send/return gives you the option to route the effected sound to a separate channel and mix it with the original sound. Connect an iOS device and use apps such as effectors, synthesizers and samplers in combination with the DJM-750MK2's internal FX. Connection via a single USB cable ensures high-quality audio.
Professional sound quality
Sound quality is grunted whether you're playing with digital or analogue sound sources, high-quality sound is created by the 64-bit digital signal processor, dithering technology, 32-bit A/D converter and 32-bit D/A converter.                        
Bundled licences for rekordbox dj and rekordbox dvs
The DJM-750MK2 comes with free license keys for our professional dj performance application rekordbox dj and the rekordbox dvs Plus Pack, so you can play digital tracks from your PC/Mac using multi players or via turntables and the dedicated control vinyl (available separately). The mixer's built-in sound card means you can connect to your computer using a single USB cable.
How to use rekordbox dj and rekordbox dvs:
Buy the RB-VS1-K Control Vinyl from a Pioneer DJ authorized dealer or directly from our website (limited countries only). Visit rekordbox.com to download the latest version of rekordbox for free and enter your license keys for rekordbox dj and rekordbox dvs. Find out more.
Other features
XLR terminal – high-quality audio output
Two headphone outputs – ¼" stereo jack and 3.5 mm mini jack
Signal GND terminal – easily attach ground wires from analogue turntables
Gold-plated RCAs – premium sound quality on all connections
Independent Mic section
Find out more about the DJM-750MK2.  
DJM-750MK2 Specifications
Number of channels

4 x audio channels, 1 x MIC channels

 

Input ports

LINE x 4 (RCA)

PHONO x 4 (RCA)

MIC × 1 (XLR & 1/4" TRS Jack)

Output ports

MASTER OUT x 2 (XLR x 1, RCA x 1),

BOOTH OUT x 1 (1/4" TRS jack),

HEADPHONE MONITOR OUT x 2 (1/4" STEREO PHONE JACK, 3.5mm STEREO MINI JACK)

USB ports

USB (B) x 1, USB (A) x 1

Other ports

SEND x 1 (1/4" TS JACK),

RETURN x 1 (1/4" TS JACK)

Sampling rate

48 kHz

D/A converter

32-bit

A/D converter

32-bit

Frequency response

20 Hz to 20 kHz (LINE)

S/N ratio

105 dB (LINE)

Total harmonic distortion

0.005 % (LINE-MASTER1)

Maximum dimensions

(W x D x H)

320 mm (W) × 107.9 mm (H) × 387.9 mm (D)

Weight

6.6 kg/14.55lbs

Accessories

Power cord, USB cable、Operating Instructions

(Quick Start Guide), License key card

(rekordbox dj, rekordbox dvs) 

* Disclaimer: specifications and price are subject to change.
* rekordboxTM is a registered trademark of Pioneer DJ Corporation.
* Mac, macOS or OS X are trademarks of Apple Inc., registered in the U.S. and other countries.
* The names of companies, product names, and technology names mentioned herein are the trademarks of their respective owners.
About Pioneer DJ
Pioneer DJ Americas, Inc. is the subsidiary of Pioneer DJ Corporation responsible for sales and marketing in North, Central, and South America. For more than 20 years, Pioneer DJ has been a market leader in the design and production of innovative DJ equipment and software. The company works closely with DJs and clubs to deliver next generation products that inspire and shape the global dance music community and has recently launched a new range of musical instruments for production and live performances. Its portfolio includes brands such as TORAIZ, Pioneer Professional Audio and Pioneer DJ Radio, as well as social platforms KUVO and DJsounds. Pioneer DJ Corporation is a privately held company headquartered in Yokohama, Japan. The company is led by Chairman Yoshiaki Ide, and CEO and President Akio Moriwaki.
Website: http://www.pioneerdj.com/
Stay up to date: http://www.pioneerdj.com/news 
USA Social Media:
Contact:
Vicki Colbert - 310-496-4452