The new rekordbox dj experience:
Meet the DDJ-1000 controller,
designed for rekordbox dj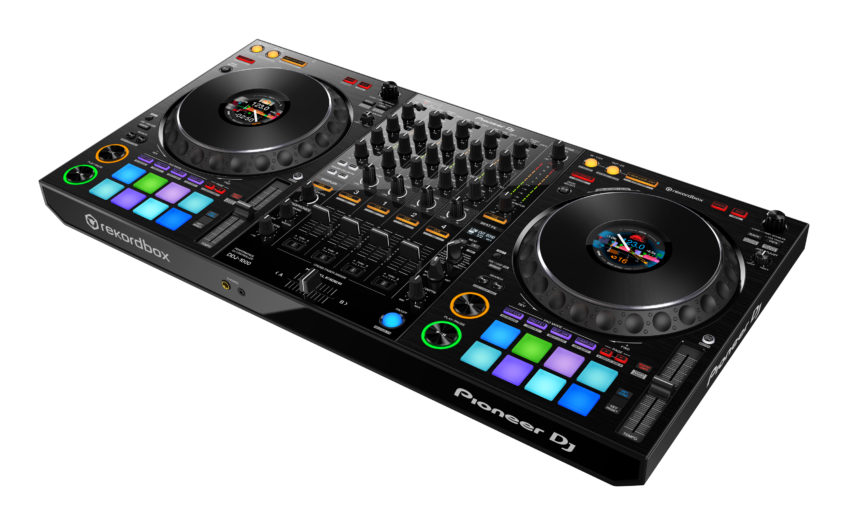 Club-style interface for intuitive performances in a compact, portable body 
(TORRANCE, CA) 16th January 2018: We've created a new DJ controller for dedicated use with our professional performance application, rekordbox dj. The 4-channel DDJ-1000 is designed to help you get the most from the new features coming to rekordbox dj following the release of the latest version of rekordbox (ver 5.1). The upgraded software will be available to download on 18th January 2018.
The DDJ-1000 offers the ideal solution if you want to play at events and party venues other than clubs thanks to its easy portability and brand-new user interface, which is similar to the familiar multi player/DJM club-standard set-up. Its professional features include full size jog wheels inherited from the CDJ-2000NXS2 with added On Jog Display so you can keep an eye on important track information without looking at your laptop. Bring creative flair to your mixes with 14 Beat FX and use the 16 multicolored Performance Pads (8 per deck) to trigger various features including Hot Cues, Pad FX and Keyboard Mode, which enables you to play a Hot Cue in different semitones. This allows you to improvise with sounds and create musical phrases as if you were playing on the keyboard of a synthesizer or other instrument.
The significantly updated version of rekordbox includes enhancements to the Related Tracks feature, adding more options for quickly finding tracks that are well matched with the one you're playing. And the improved rekordbox dj Plus Pack brings new additions such as Automix, which uses the software's upgraded track analysis to automatically and seamlessly mix tracks.
The DDJ-1000 will be available from mid-February at an MAP of $1,199. It comes with a bundled licence key for our professional DJ performance application rekordbox dj, worth $129.
Watch the DDJ-1000 introduction video or download rekordbox ver 5.1 for free from January18th, 2018. If you own a licence key for one of the rekordbox Plus Packs (rekordbox dj, video or dvs), you can upgrade to the new version of the Plus Pack for free.
KEY FEATURES OF THE DDJ-1000
Portable DJ controller with club-style layout
All the buttons and knobs on the DDJ-1000 are arranged in the same layout as those on our club-standard CDJ-2000NXS2 and DJM-900NXS2 set-up. The jog wheels are inherited directly from the CDJ-2000NXS2, so they look and feel familiar to use. As a result, using rekordbox dj with the DDJ-1000 creates the same experience as playing from USB drives with a NXS2 set-up. The DJ controller is compact and portable, too, so you can easily take it wherever you go.  
Color On Jog Display for quick reference and accurate performances
A high-definition LCD screen in the centre of each jog wheel displays information such as playback time, BPM, waveform, playback position and Hot Cue and Loop points. You can customise the information you want to see, so there's no need to look at your laptop during a mix or scratch routine.
14 Beat FX including new additions
The DDJ-1000 is loaded with all ten popular Beat FX from our DJM mixer series plus four new FX for adding creative flair and texture to your sets. You can instantly reference BPM and the name of the selected FX without looking at your laptop thanks to the dedicated Beat FX display. 
New FX:
Enigma Jet, Mobius Saw, Mobius Triangle – FX that add sound with a feeling of infinite rising or descending
Low Cut Echo – echo-derived effect that cuts low frequencies of the echo sound
Improved MAGVEL FADER
The DDJ-1000 features a new MAGVEL FADER crossfader, which inherits the design architecture of the renowned MAGVEL FADER PRO from the DJM-S9 professional battle mixer. Highly durable for more than 10 million movements, the new MAGVEL FADER enables complicated, intricate performances with a smooth feel. Plus, we've refined the software processing for jog wheel and crossfader operation to significantly reduce latency, so scratching feels more intuitive than ever.   
Multiple input/outputs enable different set-ups
DJ changeovers are a breeze for rekordbox dj users thanks to the two USB ports for PC/Mac. The DDJ-1000 has four external input terminals for DJ players and analog turntables, plus two Mic inputs. You can also use the DDJ-1000 as a stand-alone DJ mixer without connecting a PC/Mac.
Other features
Multicolored Performance Pads – tactile illuminated rubber pads trigger Hot Cues, Pad FX, Beat Jump, Sampler, Keyboard Mode and more
Feeling adjust – customise the feeling of the jog wheel
Advanced Super-Fast Search – quickly reach any playback position
Page – switch between Hot Cues 1-8 and 9-16
Key Shift and Key Sync buttons – direct control of rekordbox dj key-related features
Sound Color FX – enhance your sets with the four popular FX from the DJM mixers
Aluminum/acrylic-finished top panel – for a quality look and feel
Lightweight and portable
rekordbox dvs ready – requires the rekordbox dvs Plus Pack licence key and dedicated Control Vinyl (both available separately)
KEY FEATURES OF REKORDBOX VER 5.1
Automix for smooth and natural automatic mixing
Drop tracks into an Automix playlist and rekordbox dj will mix them accurately and smoothly. Phrases in a track are now detected by the newly developed phrase analysis algorithm in the track analysis section of rekordbox's KORETECH engine. In addition to the phrase information, Automix uses track information such as beat position, BPM and key to make mixes sound natural. You can scratch, apply FX and change the order of tracks during Automix.
Advanced Related Tracks feature brings more detailed search criteria
The popular Related Tracks feature – which displays tracks that are well matched with the one you're currently playing – has been significantly upgraded. You can easily find even more relevant tracks using increased search criteria such as artists, comments and file formats, and you can save your custom criteria and call it up at any time. This feature is highly useful for creating unique sets from tracks you might not have otherwise thought to mix together. 
DDJ-1000 specifications 
Frequency characteristic

20 Hz to 20 kHz (LINE)

S/N ratio

112 dB (USB)

Total Harmonic Distortion

0.002% (USB - MASTER1)

Input / Output Terminals

 

 

 

Inputs

LINE/PHONO × 2 (RCA), LINE × 2(RCA)

MIC × 2(XLR & 1/4-inch TRS jack x 1, 1/4-inch TRS jack x 1)

Outputs

MASTER × 2(XLR × 1, RCA x 1)

BOOTH OUT × 1(1/4-inch TRS jack)

PHONES × 2 (1/4-inch stereo jack × 1, 3.5-mm stereo mini-jack × 1)

USB

USB (Type B) x 2

Maximum Dimensions (WxDxH)         

708.0 × 361.4 × 73.4 mm

Weight

6.0 kg

Accessories

AC adaptor, Power cord, USB cable

Quick Start Guide, rekordbox dj licence key card
System requirements
Compatible OS

Mac

macOS High Sierra 10.13 (Updated to the latest version) macOS Sierra 10.12 (Updated to the latest version)

OS X 10.11, 10.10 (Updated to the latest version)

Windows

Windows® 10, 8.1, 7 (the latest service pack)

CPU

Intel® processor Core™ i7, i5, i3

Intel® processor Core™ 2 Duo: 2.0GHz or above

Memory

4 GB or more of RAM
* Disclaimer: specifications and price are subject to change.
* rekordbox is a registered trademark of Pioneer DJ Corporation.
* KORETECH is a trademark of Pioneer DJ Corporation.
* Mac, OS X or macOS are trademarks of Apple Inc., registered in the US and other countries.
* Windows is a registered trademark of Microsoft Corporation in the US and other countries.
* Intel and Intel Core are registered trademarks of Intel Corporation in the US and other countries.
* The names of companies, product names and technology names mentioned herein are the trademarks of their respective owners.
About Pioneer DJ
Pioneer DJ Americas, Inc. is the subsidiary of Pioneer DJ Corporation responsible for sales and marketing in North, Central, and South America. For more than 20 years, Pioneer DJ has been a market leader in the design and production of innovative DJ equipment and software. The company works closely with DJs and clubs to deliver next generation products that inspire and shape the global dance music community and has recently launched a new range of musical instruments for production and live performances. Its portfolio includes brands such as TORAIZ, Pioneer Professional Audio and Pioneer DJ Radio, as well as social platforms KUVO and DJsounds. Pioneer DJ Corporation is a privately held company headquartered in Yokohama, Japan. The company is led by Chairman Yoshiaki Ide, and CEO and President Akio Moriwaki.
Website: http://www.pioneerdj.com/
Stay up to date: http://www.pioneerdj.com/news
USA Social Media:
Contact: Elizabeth Villafan, 310-496-4454