For the Record: New DJM-REC recording app enables DJs to easily record mixes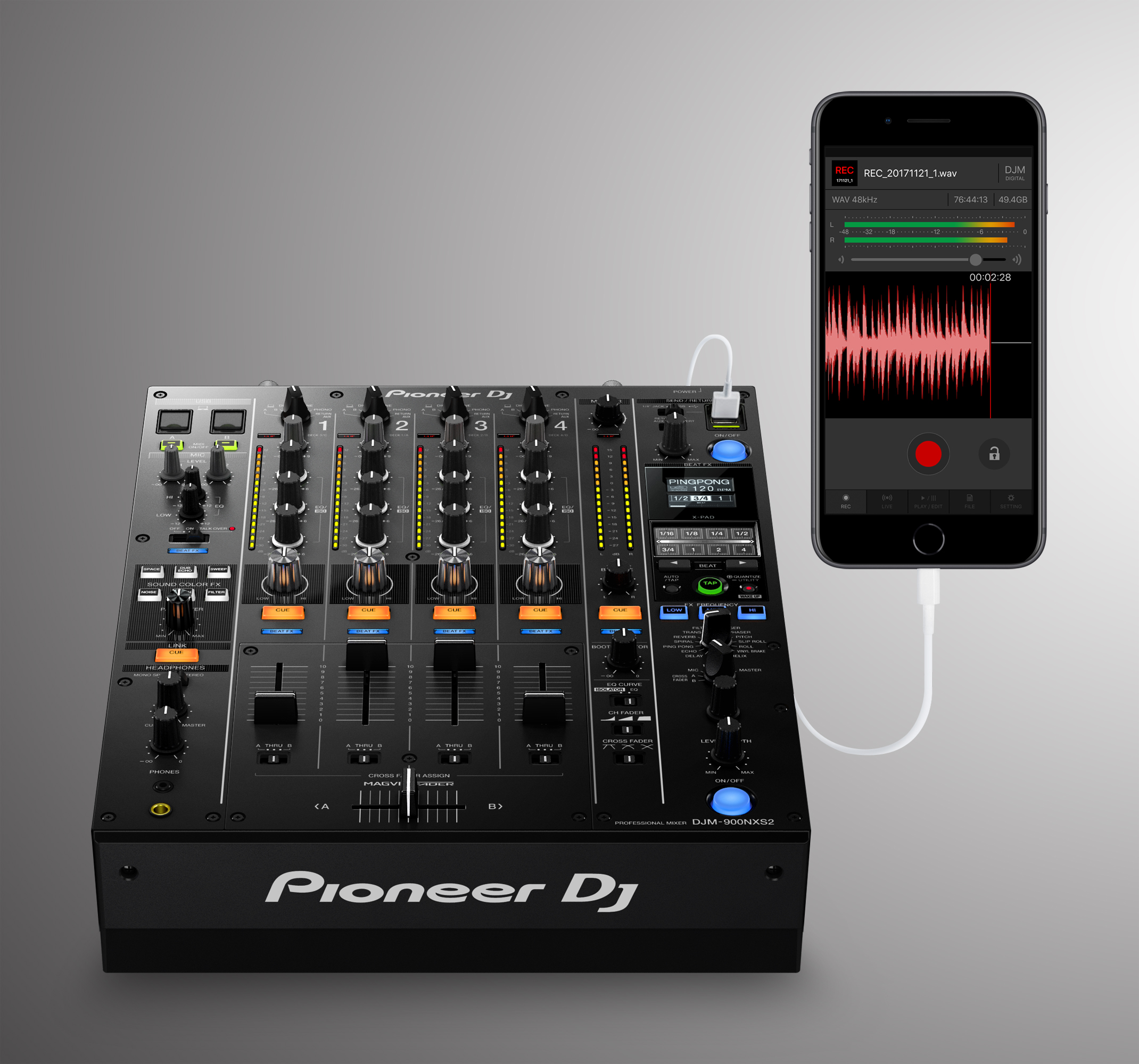 Simple set-up plus seamless sharing and streaming
(TORRANCE, CA) 23rd January 2018: We're releasing DJM-REC, a new app for iPhone and iPad which enables the easy recording and sharing of high-quality DJ mixes.
All types of DJs like to record their mixes in order to review performances and raise their profile via online sharing. However, it can be a stressful process. Connecting a recording device to the back of the mixer can be complicated work in a dark DJ booth, and adjusting the recording level to avoid clipping is also a troublesome task. Once the set is over, making a track list and uploading it to different online platforms along with the audio is a time-consuming chore.   
DJM-REC solves all these problems, taking advantage of our experience in designing DJ Mixers including the club-standard DJM-900NXS2. The app offers simple connection, high-quality audio recording plus easy online sharing and streaming.
DJM-REC is available in the App Store at the price of $9.99 from 23rd January 2018. 
You can try DJM-REC free for 30 days to get to know all of its features. Mixes recorded during the trial period will remain available for listening and sharing after the trial has ended. To continue recording and using all the app's features after the trial period has ended, you can upgrade to the paid version.
DJM-REC compatible mixers are as follows: DJM-TOUR1, DJM-900NXS2, DJM-750MK2 and DJM-450.
To use DJM-REC, update the mixer's firmware to the latest version.
KEY FEATURES OF DJM-REC
Simple connection to DJM series mixers
Install DJM-REC on your iPhone or iPad, then simply plug into any DJM mixer which has the digital send/return feature using a single USB cable. The port is on the top of the mixer rather than the back, so connecting is a breeze even in a dark DJ booth. 
High-quality recording which minimizes clipping and distortion
DJM-REC can control the peak limiter in the DJM Mixer. Tap the button to enable this feature and alleviate digital clipping. Audio from a digital mixer can be recorded directly in digital format without the need for analogue conversion.
Easily share your mixes with the world
Effortlessly live stream your mix through YouTube, Facebook Live, Periscope, Instagram and Snapchat via DJM-REC. Easily upload your recorded mixes, digital recordings of your analogue tracks, and remixed tracks created using features and FX on DJM mixers to cloud services such as Mixcloud and Dropbox.
Auto time-stamp for effortless track list creation
Time-stamps for tracks are automatically created thanks to the information transmitted from the DJM mixer, such as the fader positions, to the app. The time-stamps are editable and making track lists is easy, as you can edit track information per time-stamp within the app.
Powerful club-standard sound, remastered easily
Swipe the Loudness slider on DJM-REC to easily increase audio pressure. Punchy, heavier, vibrant bass sound that can't be obtained by simply raising the signal level of the low range is created when you swipe the Sub Bass slider, as this creates new signals based on the track's input signals. Old tracks can be refreshed with a powerful club sound, just like the latest releases.  
Other features
Recorded sound on your iPhone/iPad can be input into DJM series mixers using the digital send/return feature.
Analogue recording in the app is possible using the microphone function on an iPhone/iPad with an external microphone when your device isn't connected to a DJM mixer.
DJM-REC Specifications
OS(iOS)

iOS 8 or later

iPhone

iPhone X, iPhone 8, iPhone 8 Plus, iPhone 7 Plus, iPhone 6s Plus, iPhone 6 Plus,

iPhone 7, iPhone 6s, iPhone 6,

iPhone 5s, iPhone SE

iPad

12.9-inch iPad Pro, 10.5-inch iPad Pro,

9.7-inch iPad Pro, iPad Air 2, iPad Air,

iPad mini 4, iPad mini 3, iPad mini 2,

iPad (5th generation)

Display Resolution

Retina

Playable Files

WAV(Sampling rate: 44.1/48 kHz, Bit depth: 24bit)

AAC (bit rate 64kbps, 128kbps, 192kbps, 256kbps, 320kbps)
・Disclaimer: specifications and price are subject to change.
・iPad and iPhone are registered trademarks of Apple Inc. in the US and other countries.
・App Store is a service mark of Apple Inc.
・YouTube is a trade name or registered trademark of Google Inc.
・Facebook is a registered trademark of Facebook, Inc.
・Periscope is a trade name or registered trademark of Twitter Inc.
・Instagram is a registered trademark of Instagram LLC.
・Snapchat is a registered trademark of Snapchat Inc.
・Mixcloud is a registered trademark of Mixcloud Limited.
・Dropbox is a registered trademark of Dropbox Inc.
・Other stated company names, product names, technology names, etc. are the trademarks or registered trademarks of their respective owners.
・It is the responsibility of DJM-REC app users to follow copyright protection laws, rules and regulations designated in their country, as well as international treaties which are made available within DJM-REC.
About Pioneer DJ
Pioneer DJ Americas, Inc. is the subsidiary of Pioneer DJ Corporation responsible for sales and marketing in North, Central, and South America. For more than 20 years, Pioneer DJ has been a market leader in the design and production of innovative DJ equipment and software. The company works closely with DJs and clubs to deliver next generation products that inspire and shape the global dance music community and has recently launched a new range of musical instruments for production and live performances. Its portfolio includes brands such as TORAIZ, Pioneer Professional Audio and Pioneer DJ Radio, as well as social platforms KUVO and DJsounds. Pioneer DJ Corporation is a privately held company headquartered in Yokohama, Japan. The company is led by Chairman Yoshiaki Ide, and CEO and President Akio Moriwaki.
Website: http://www.pioneerdj.com/
Stay up to date: http://www.pioneerdj.com/news
USA Social Media:
Contact: Elizabeth Villafan, 310-496-4454